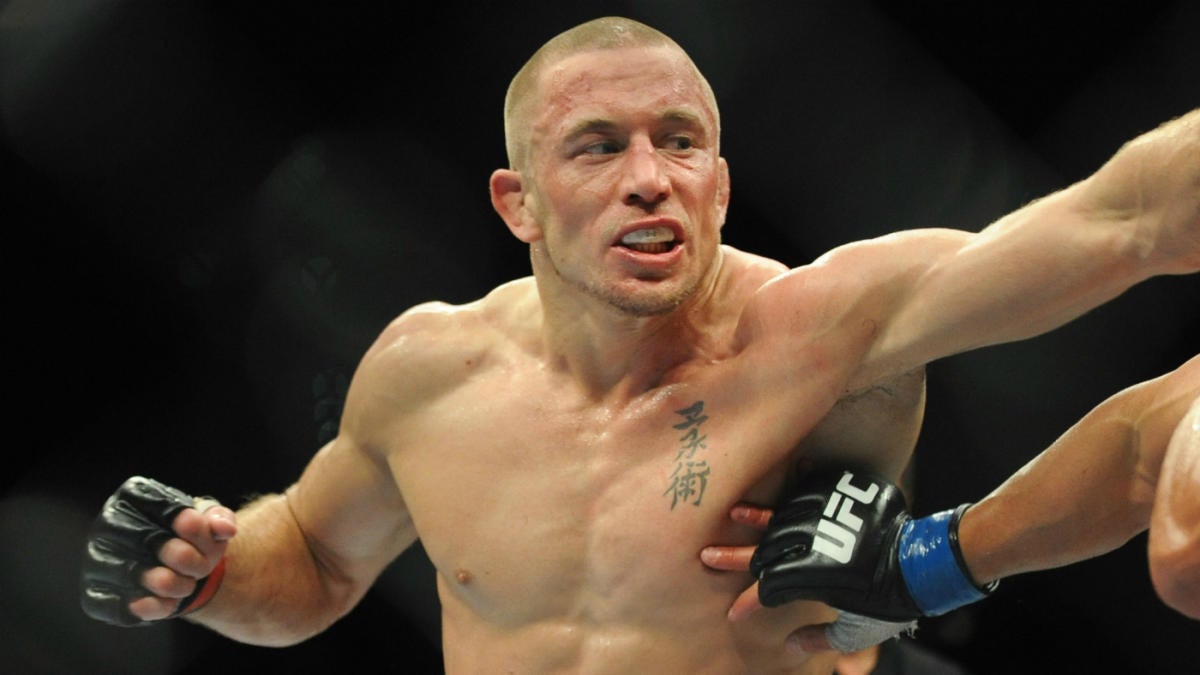 There was no doubt who won the UFC 158 clash between then-welterweight champ Georges St. Pierre and Nick Diaz in March 2013. St. Pierre's wrestling and overall strength was simply too much for Diaz as the champ took a clear decision win.
St. Pierre returned to the cage in November 2017 after nearly four years in retirement. After an incredible performance and submission victory to win the middleweight championship from Michael Bisping, GSP promptly found his way back on the sidelines.
With Diaz's younger brother returning from his own three years away to score a win over Anthony Pettis at UFC 241, the Diaz brothers are back in the spotlight again.
While the rivalry between Nick and St. Pierre was heated in 2013, returning to the Octagon to run it back isn't in the cards as far as the greatest welterweight of all time is concerned.
"I don't know what to say. He's one of my biggest adversaries," St. Pierre told Chael Sonnen. "Even if we only fought once, we're kind of very different personalities, and I think the clash of personalities makes it very interesting, but I'm retired now. I don't want to go back and fight Nick Diaz. I wish him the best of luck in his pursuit of the title if that's what he wanted to do. It's not interesting for me. It has nothing I can gain from that. The risk is not worth the reward."
Diaz has only fought once since the loss to St. Pierre, a January 2015 fight with Anderson Silva. Silva originally won a decision but the fight was overturned to a no contest after Silva failed a drug test — Diaz also failed his drug test, testing positive for marijuana.
It's unclear if we'll ever see either man back in the Octagon, but it seems we won't see them standing across from each other.
More UFC news, rumors
Rory MacDonald and Douglas Lima will meet for a second time on Oct. 26 in the finals of the Bellator's welterweight World Grand Prix. The 170-pounders first met in 2018 with MacDonald earning a decision win.
After previously saying he "liked Jose Aldo at any weight," UFC president Dana White changed his tune while speaking with reporters after the latest edition of the Contender Series. "Aldo sent me a text telling me he wants to do this, so we really haven't talked about it, but I just … there's no way that kid can make (135). There's no way," White said. "No way."
After previous rumors Brian Ortega would return to the Octagon in a bout with "The Korean Zombie" Chan Sung Jung after a failed bid for Max Holloway's featherweight crown in December, it now appears the fight is close to happening. The bout missed happening in Mexico City as Ortega wanted, but he sees it as an eventual main event somewhere. "I want to fight. I want to give the fans a main event fight somewhere," Ortega told MMA Fighting. "Korean Zombie" sounds good, especially after the fact that he's talking s–t, which is not like him, so I'm guessing there's something behind that. If he can keep talking and the fans want to see it and we can make that a main event somewhere, we should."