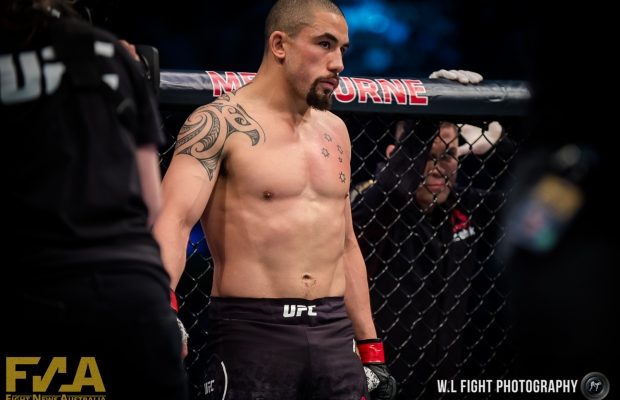 Darren till announced himself as a true contender in the middleweight division at UFC 244 over the weekend, defeating former middleweight title challenger Kelvin Gastelum.
Many believed Till was foolish in taking on such a tough challenge for his middleweight debut, but Till proved the doubters wrong, putting on a technical performance on his way to a split-decision victory.
Former UFC middleweight champion Robert Whittaker spoke about the performance on his podcast Grange TV and was extremely impressed with what he saw.
"Till was landing a lot of clean shots," Whittaker said.
"I think it was beautiful. I think Till came in with a great gameplan, I think he executed it perfectly, cause Gastelum is a super underrated, super, super dangerous fighter.
[embedded content]
"He looks as good as he was in welterweight. Probably better. He won't be doing those harsh cuts anymore. And remember, this was his first fight at middleweight. He's only going to fill out into it better."
Till made the move up in weight class after suffering back-to-back losses at welterweight to Tyron Woodley and Jorge Masvidal.
The win over Gastelum jumped Till right into the top 5 of the UFC middleweight rankings, with Whittaker acknowledging their paths are bound to cross.
"I can see him, he's going to stay in the middleweight division and he's going to be dangerous," Whittaker said.
"Now he's in the top five. I'm going to have to fight him."
Whittaker recently canceled a speaking tour that was set to take place around Australia and New Zealand in order to focus on his training. It is believed Whittaker is eager to get back into the cage as soon as possible, with dates of February and March being discussed for his next fight.
A fight with Till is a real possibility, with Whittaker continuing to praise Till for what he has achieved in the UFC so far.
"He looked great … Whenever anyone puts a mic in his hands, I love it, I tune in. I'm gonna have to fight him. I'm going to have to fight him."
UFC Fight Night 163 – Zabit Magomedsharipov vs Calvin Kattar Start Time & Broadcast Details